Welcome 9:30am to 8pm daily to Buriram Full Body Oil Massage. Open 7 days a week for Thai Massage | Oil Massage
OPEN everyday in January 7 days a week. 
300 Baht One Hour unscented Oil Massage
400 Baht One Hour Aroma Massage or Coconut Oil Massage
500 Baht One Hour Full Body Massage (neck, Head, Feet, Body)
200 Baht One hour Thai Traditional Massage
Two and one half  blocks from Paddy's Irish Pub | Two blocks from Tesco Express Buriram. See map and get directions here.
Phone 098 956 2208 or via line app or contact via Facebook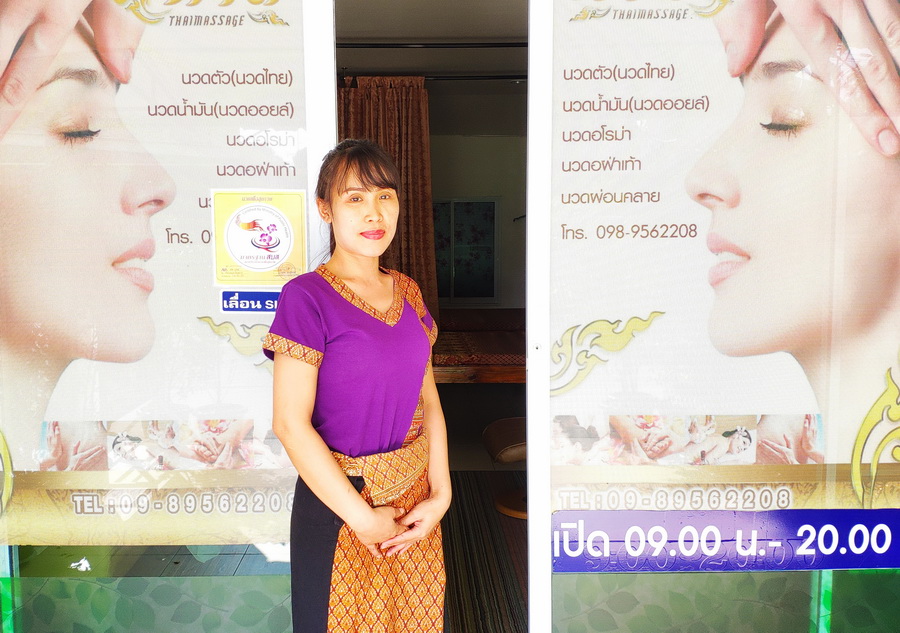 Experience a massage in Buriram from a pleasant and skillful female masseuse. In Buriram and in need of a worthwhile Foot Massage | Scalp Massage | Traditional Thai Massage | Deep Tissue Massage or Full Body Oil Massage.
Deep-tissue massage is ideal for releasing chronic tension and may also help improve your range of motion.
If you suffer from chronic aches, and pains, suffer from dsb or want more satisfaction than classic Thai massage offers come to Buriram Massage. Only one masseuse on duty to serve clients. You may book a couples massage in person in advance, so a second more mature female masseuse can be available for couples. Never two ladies for one man at this massage parlour.
Easy to find on google maps and only two and one half short blocks from Paddy's Irish Bar & Restaurant. The first of eight massage establishments on the same block. Top Reviews on facebook | trip advisor | google maps 2020. No photos ever taken of customers.